Soaring Eagle Sister Casinos, Casino and Resort Review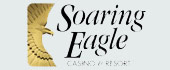 Soaring Eagle Casino and Resort is located at the Isabella Indian Reservation on Mount Pleasant, MI. This tribal casino resort has a rather large gaming floor of 210,000 square feet, making it one of the biggest in the Great Lakes Bay Region. Its owner is the Saginaw Chippewa Tribal Nation.

Visitors can expect a wide choice of over 2,300 machines, along with approximately 70 poker tables and other table games. There are over 750 rooms in the hotel, and other amenities include an event hall, an outdoor arena, a nightclub/sports bar, 8 restaurants, a pool and spa, an arcade, and more. In addition, the resort offers a meeting space/conference area of 70,000 sq ft. Soaring Eagle is available 24/7, and the Saginaw Chippewa Gaming Commission regulates it.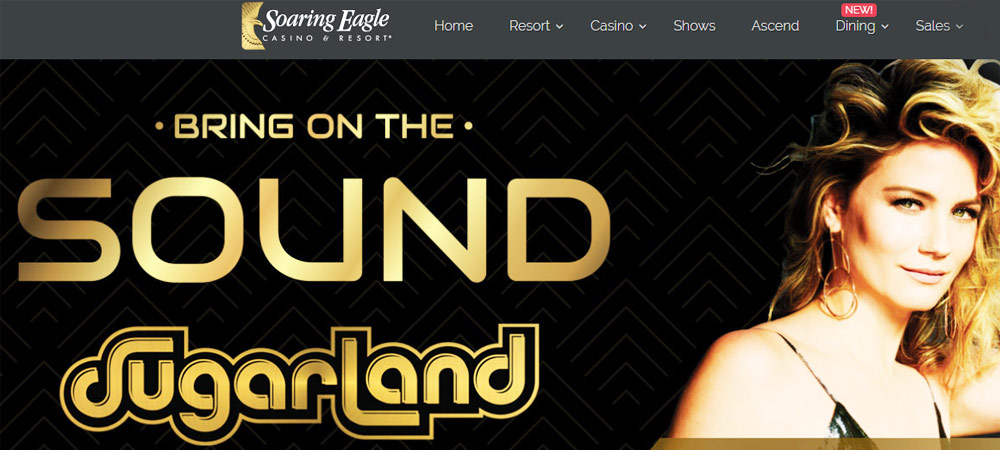 Sister Casino: Saganing Eagles Landing Casino
Soaring Eagle sister casino is Saganing Eagles Landing Casino. This casino is located in Standish, MI. The Saginaw Chippewa Tribal Nation also operates it. Saganing Eagles Landing opened in 2007, and it is not as large as Soaring Eagle.

The sister casino has a 34,000 sq ft gaming floor with around 800 gaming machines. The machines are slots, video poker, and electronic table games. Unfortunately, Saganing Eagles Landing does not offer hotel accommodations. However, in terms of other facilities, the property has a restaurant, an RV park, and a gift shop with Chippewa tribal merchandise. And if you are a member of the Eagle Access Loyalty program, you can get a $10 welcome bonus too.
Soaring Eagle Casino & Resort Review
Soaring Eagle opened in 1998. Even though it was open for more than 20 years, the resort was recently renovated and redesigned in 2018. It is one of approximately 25 casinos in Michigan and is among the largest in the area. As stated earlier, the gaming floor is quite massive. Additionally, the casino has a wide offer of slots and traditional casino games. So if you are looking for an all-inclusive casino hotel for your next vacation, have a look at our Soaring Eagle Casino and Resort review.

Location
Mount Pleasant is quite a small and secluded town in Michigan. It doesn't have a large population (only around 25,000 people), and it is ideal for a private and quiet vacation. If you visit the Soaring Eagle casino and resort, you will be very close to the downtown area where you can also visit cultural attractions, beautiful parks, bars, and malls. There are two large parks with lovely nature trails, and they are perfect for hiking and various recreational activities.

Soaring Eagle Facilities
Firstly, the facilities have a sophisticated design. At the entrance of the resort, you will see a miniature pond with some beautiful fountains, as well as a garden. The main lobby has a gorgeous white stone fireplace, plus, there are many tribal design elements in the casino.

Namely, the interior features native decor, furniture, floors, and bedding, which is very unique. On top of that, the design is based on elements from the culture and art of the Chippewa (Ojibwa) tribe, which is well known for its floral patterns and intricate beadwork. There is great attention to detail in the casino design — even the coffee cups feature native designs. Overall, the resort is rich in history, and you can definitely feel that lovely atmosphere in the hallways and lobbies.

Even though the resort was built in the late 1990s, there was a recent renovation and expansion which cost over $26 million. Thus, you can certainly expect to get a clean and fresh environment with up-to-date facilities. Additionally, the accommodations are moderately priced and are quite cozy. If you opt for a room with a view, you will see a wonderful forest landscape.

Casino Floor and Entertainment Features
In terms of the casino, the main gaming floor is a smoking area. Moreover, the casino is among the largest in the Midwest. Overall, the game choice is quite rich and contains almost 2,400 casino games of various types.

As mentioned earlier, the resort has over 750 hotel rooms and suites. On top of that, there are two entertainment venues featuring a 3,285-seat event hall and an outdoor arena with a capacity for 11,000 people. Some of the biggest acts that have performed at this outdoor arena are Santana, B.B. King, Lynyrd Skynyrd, and more. In fact, the arena is among the largest in the area. Moreover, the Ascend nightclub and sports bar also hosts various comedy nights, parties with DJs, karaoke nights, and you can also watch major sporting events there.

For fans of fine dining, Soaring Eagle has an award-winning steakhouse, a traditional Italian restaurant, a classic American diner, and a large buffet place with plenty of choices. In total, there are 4 restaurants and 4 quick eateries/cafés. To relax, you can visit the pool and spa, and there is even a romantic outdoor hot tub. If you want to take your children along, there is a supervised daycare center and playing area with a vast variety of fun activities. And for business meetings, the resort has a 70,000 sq ft meeting area with a large ballroom.

On top of all those features, the Soaring Eagle is located just minutes away from the Soaring Eagle Waterpark and Hotel, along with other attractions that will improve your stay.
Reputation
If you are new to tribal casinos, they operate in a slightly different manner compared to casinos in places like Las Vegas or Atlantic City. Tribal casinos are regulated under the Indian Gaming Regulatory Act. This act protects players, as well as the casinos themselves from fraud or suspicious activities.

Soaring Eagle Casino & Resort is one of over 450 legal tribal casinos in the US. Most tribal casinos are operated by the federally recognized tribe. Furthermore, proceeds that casinos make have to be used for charity, for the development of the tribe and the reservation, or for paying taxes. The law ensures that places like the Soaring Eagle stay uncorrupted and safe for players. Thus, you can be sure that this is a trustworthy resort.

To further inspect the reputation of the Soaring Eagle Casino and Resort, we've looked over some online reviews from visitors and players. Overall, we noticed that guests had a generally positive and fun experience in the resort.

A lot of visitors were very satisfied with the look and feel of the casino, as well as its location. Most guests were highly pleased with the way they were treated and the polite staff. Some newlyweds even wrote that the staff left various special gifts in their suite for their honeymoon, which means that they genuinely care about their guests.

And in terms of casino games, some players noted that the gaming floor has enough space for even more games. Players claimed that there could be more tables available, and some even complained that the table rates were higher than usual on the weekends. The former is something that the casino could improve on. However, it looks like the resort has a great reputation across the board. So if you want to spend real money here, there is no reason to be suspicious.
Soaring Eagle Casino Games
As mentioned, the casino has a 210,000 sq ft gaming area where smoking is allowed. Moreover, there is a non-smoking space which is separated from the main gaming floor. In addition, there is a high-limit area and a VIP lounge as well. The game offer is vast, and it includes over 2,300 machines and around 70 table games.

The majority of titles in this casino are slots, but there is quite a versatile collection of other games. Regarding the slots, you can play 1, 2, or 5-cent machines. The slots have multiple paylines, and some machines even go up to 9 or more. On top of that, you can also play $1, $2, and $5-slots. You can play titles like Playboy Slot, Tree of Wealth, Mustang Money 2, Anchorman, and more.

Furthermore, there is a range of various progressive slots. If you opt for these, you could randomly hit a progressive jackpot and get a big prize. The great thing about the progressive slots in this casino is that they guarantee a payout before the minor progressive jackpot hits the value of $25,000. And in case of the major jackpot, the payout is guaranteed before the jackpot hits $75,000.

And if you are a fan of video poker, the casino has 400 machines. However, some players have noted that the video poker games have a higher minimum bet of 5 cents, which might not pay off. You can play games such as Double Bonus, Pick'em Poker, Deuces Wild, and more.

In the table games section, there are around 70 games, and 5 of them also include a progressive jackpot. The games with a progressive jackpot are Mississippi Stud, Ultimate Texas Hold'em, Four Card Poker, Let It Ride, and Crazy 4 Poker. You can also play multi-hand blackjack, craps, single zero roulette, along with the unique Chase the Flush card game. What is more, most tables are open 24/7. In total, there are 35 blackjack tables and almost 30 poker tables.

And regarding other games, the casino has a bingo area with 500 seats. There, games are organized throughout the day, and the entry fee is usually between $5 and $20. However, the casino doesn't have a racebook and sportsbook area, which is quite a shame.
Bonuses
If you are wondering about promotional offers at the Soaring Eagle, the casino has a rewards program called Access, which will help you earn, as well as redeem comp points.

You can use these points at the Soaring Eagle Casino, the Saganing Eagles Landing Casino, and the nearby water park. You can get points for slot machines that unlock premium play, dining offers, free stays, event passes, tournament invitations, and more. Additionally, the casino offers a Hero Card for all veterans or current military members with some sizeable discounts.

Unfortunately, it looks like most promotional offers only apply to Access club members. For example, if you are a member, you can take part in various drawings and giveaways. Namely, there is a weekly prize drawing in which you could win $500 for premium play or a $10,000 travel package with an additional $10,000 in cash. Moreover, the travel package changes every week, so you could end up winning a trip to the holiday destination of your dreams. In addition, there is a $500 Premium Play bonus for seniors.

Also, if you are a new member of the Access program, you are eligible to get a $10 welcome bonus for premium play.

Overall, the casino has a lot of promotions, and if you want to play games for real money here, it would be smart to opt for the Access rewards program. As you can see, it offers a lot of various promotional offers that you can use to your benefit.
Support
For any inquiries, you can e-mail the resort via a contact form on the website, or you can call a toll-free number.

Overall, most guests who have written online reviews have claimed that the staff at the reception, the restaurants, the casino, and all over the hotel was genuinely friendly and willing to assist players regarding any issue.

However, some guests complained a bit about the organization during crowded live events, and the customer service replied in great detail and took the complaints from the guests very seriously. Also, some have claimed that the automated valet service could use some improvements. All in all, there were very few to no complaints against the casino staff. It seems that the casino personnel is overall quite attentive and supportive.
Summary
Soaring Eagle Casino and Resort has a unique Native American theme, and it is a huge property in the Midwest. It is located in a secluded area where you will be close to nature, so it could be a great destination for a relaxing vacation. Overall, the casino has plenty of gaming options and bonus offers. On top of that, there are many entertainment and dining options, along with good accommodations. Certainly, we mentioned some things that could be improved, but those are only minor flaws which can easily be fixed. In a nutshell, this casino resort has a trustworthy reputation and seems like a good place to spend real funds and have a great time at. So if you want to experience Native American culture in one of the finest tribal casinos, you should definitely give Soaring Eagle Casino and Resort a chance.